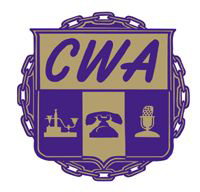 Again no resolution to the grievance strike as of now.
We are asking for all members to meet downtown at the 111 N 4th St building at 6:15am.
AS MANY AS POSSIBLE! The more the better.
Please pass along to anyone you have in your contacts.
If you can't make it at 6:15 still show up!
We are going to march to the state house between 8:30-9:00am.
STAY STRONG, UNION STRONG!!
________________________________________________________________________________________________________
5/20/2018
2 things to address.
1st there has been no resolution at this point, and a meeting at OUR union hall, 4140 E Broad St. @ 3pm.
2nd, there is a call for anyone who can, be at 111 N 4th St @ 8am.
The idea is to hopefully have an agreement to present to OUR membership.
All input, ideas, are welcomed. Please consider attending these. As usual, thank you for the support and continue to share this info with any and all!
_________________________________________________________________________________________________________
Union Update:
The union spent the day researching grievances to support the accusations of safety being used as a weapon. We scheduled to met with the company at 11am in an attempt to provide this information and settle the grievance and we're informed the negotiators for the company did not have the authority to settle the grievance. Additionally, the company ended the meeting before the supporting evidence related to our grievance could be presented. A meeting was then scheduled for 1:30 and postponed. Another meeting was then set for 3pm and once again postponed. A final meeting was then scheduled for 6pm to present our evidence. At this moment, the 6pm meeting has not begun and will not involve direct conversation about the grievance. The union will continue negotiations tomorrow and anticipate substantive discussions aimed at settling the grievance.
For now the members grievance strike remains in effect!
More updates will follow as info is provided.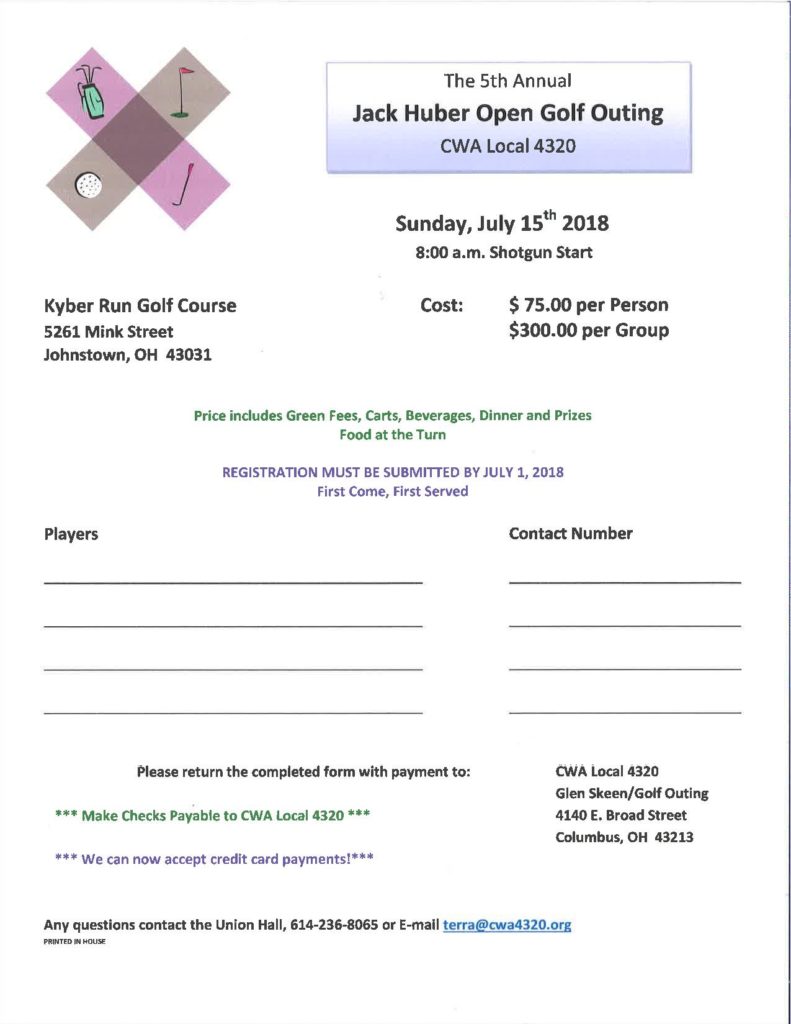 Join us on Facebook at: Ohio Voter Awareness, and help left every voice!
See below a the link for a bit of a very important news article listed below!!
https://www.usatoday.com/…/unions-companies-show…/478845002/
Unions to companies: Show me the money from the tax cut!!!
…
Big unions are challenging American companies to show them the tax-cut money.
Before the sweeping tax cuts were passed late last year, major U.S. corporations joined President Trump and Republicans in Congress in vowing the reform would grow the economy, create jobs and raise wages. And since then, many have boosted minimum wages, doled out bonuses and increased spending and charitable giving.
But the unions want companies to go a step further. As part of ongoing contract negotiations or talks set to begin within months, unions including the Communications Workers of America, Service Employees International Union, the Teamsters and the American Federation of Teachers are asking companies such as AT&T and American Airlines to reveal how much the tax overhaul will fatten their profits and what they plan to do with the windfall. They're demanding that the companies specify the portion of the gains that will be used to boost wages, bring back jobs from overseas and make capital investments as well as the amount going toward increasing executive pay and buying back stock.
 
Great Job CWA 4320 Mobility Chief Steward Renee Rouser!!
YOUNGSTOWN
U.S. Sen. Sherrod Brown introduced legislation to keep call-center jobs in the United States.
"Most Americans want to support American jobs by buying American whenever they can and that includes the customer service they get from call centers," said Brown, a Cleveland Democrat.
The U.S. lost 200,000 call-center jobs between 2006 and 2014, said Brown citing statistics from the federal Bureau of Labor Statistics.
"We want and need these good decent jobs in the U.S.," said Renee Rouser of Youngstown, who has worked at an AT&T call center in the city for the past 13 years. "We want to put the money back into our economy. Instead, corporate greed is being put in front of responsible and professional work. We as the employees should not be competing against call centers located in the Philippines, Mexico and other areas."
Brown's bill, the U.S. Call Center Workers and Consumer Protection Act, would:
Give preference in federal contracts to companies that haven't relocated call-center jobs overseas.
Require U.S. companies to identify the location of the call center and allow the customer to be transferred to a call center located in the U.S. if asked.
Require companies to notify the Department of Labor before they relocate call centers and create a public list of companies that outsource call-center jobs.
The list would be maintained by the DOL and be available for public reference, Brown said.
Any companies on the list would be ineligible for federal grants or loans, with an exception for national security or substantial job loss in the United States. Also, federal agencies would also be required to give preference to U.S. employers that do not appear on the list.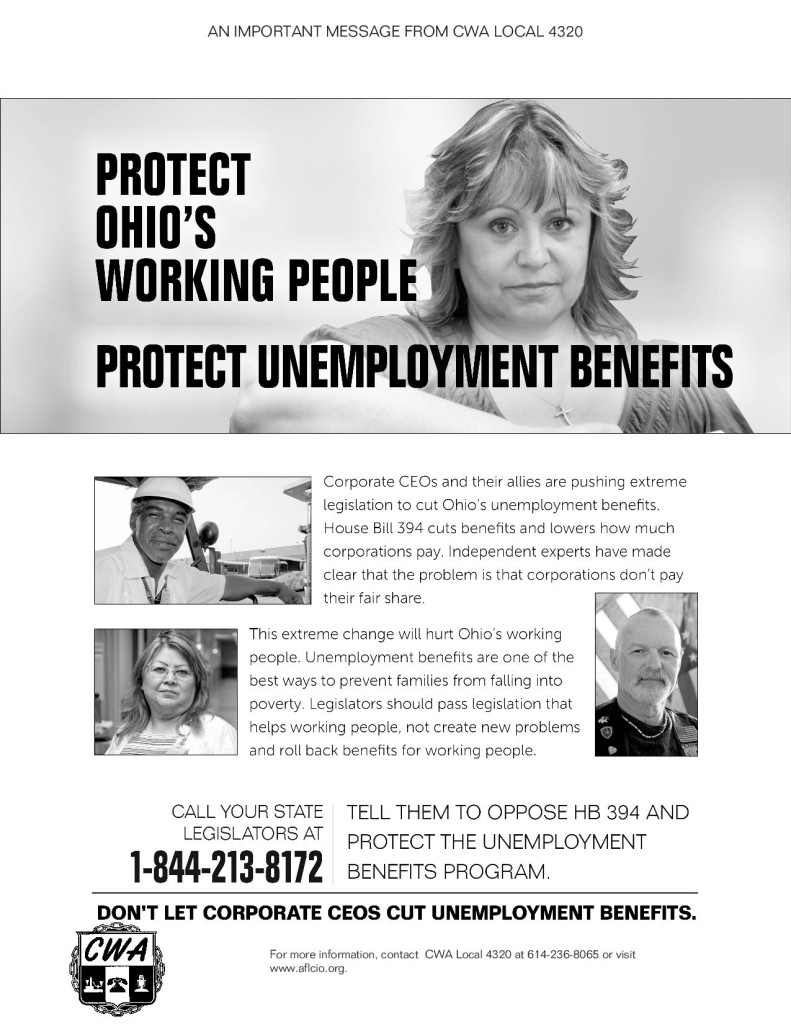 Ted Strickland Still Standing with the Working Class 

 

Important Member Information Concerning the Anthem Hack
Anthem Provides Update on Id Theft Services for Members Affected By Cyber Attack
Consumers will be able to sign up for identity theft repair and credit monitoring services — offered free of charge for two years — beginning Friday at 2 p.m. ET Information on how to enroll will be posted  at anthemfacts.com. (Updated 2/13/2015)
---
When news breaks, you want to know about it. And know what's coming next.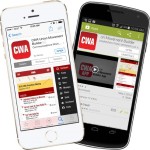 The new CWA Movement Builder App for iPhone® and Android™ is now available. Download it today to receive updates about CWA rallies and event, chances to grow your union, and get breaking news.
Current Officers:
Jay Walther – President
Glen Skeen – Vice President
Todd Banks – Treasurer
Next Union Meeting: June 13, 2018